Antioxidant- Respiratory Infections - Immune Support
Specific species with highest therapeutic properties, Echinacea purpurea & Origanum vulgare. Find out more!
General health & wellbeing
Support health lymphatic system
Antioxidant -Support immune system to fight illness
Reduce the severity symptoms of upper respiratory tract infections
Indications below are based on history of evidence of traditional use in Western herbal medicine
Blood purifier -Maintain gastrointestinal system health
Relieve symptoms of common colds and flu
Soothe respiratory tract tissue
Manufacture in TGA, GMP compliant and Australian Certified Organic facilities
Listed with the Australian Register of Therapeutic Goods AUSTL 363818
Guaranteed Certified Organic Oregano, Non-GMO
View full details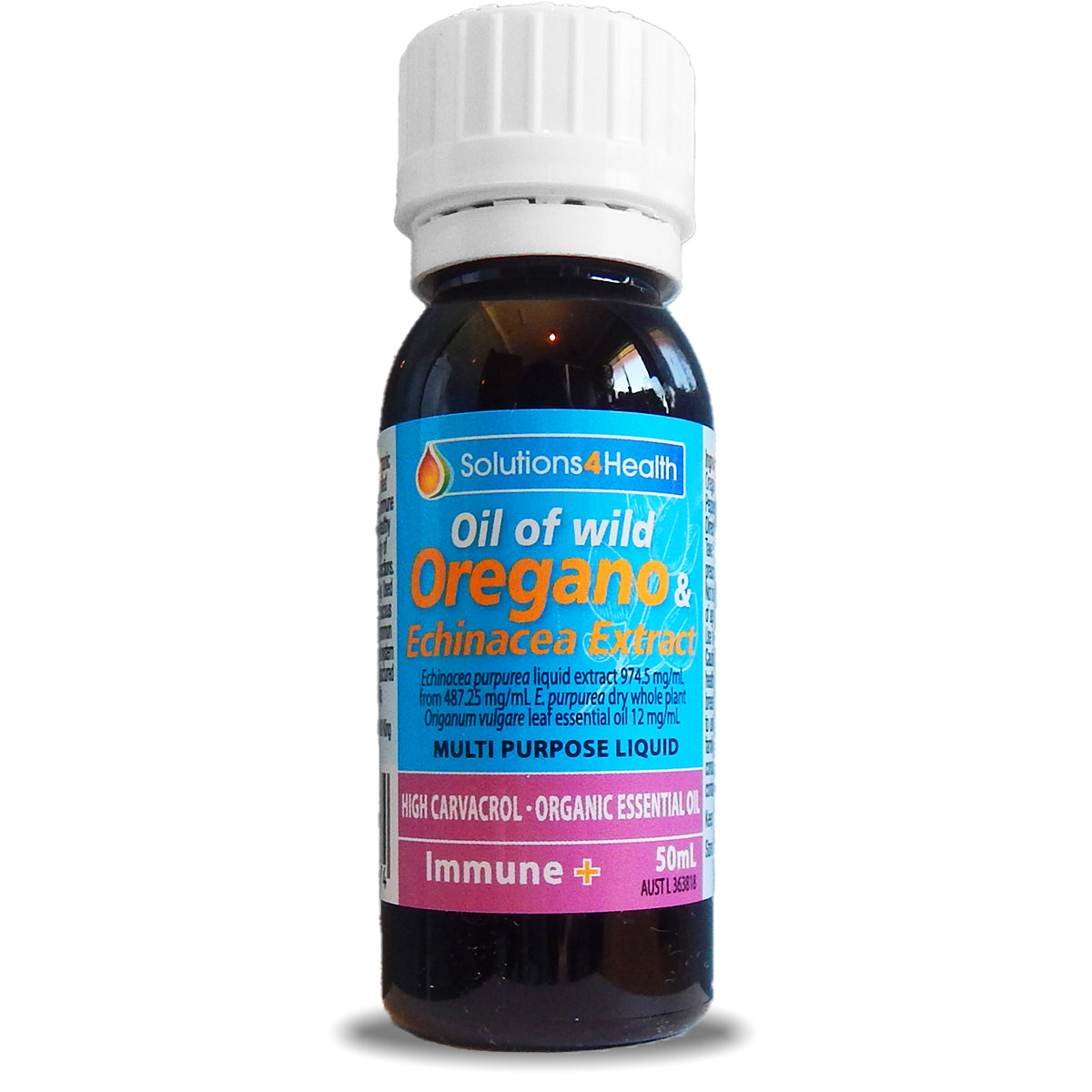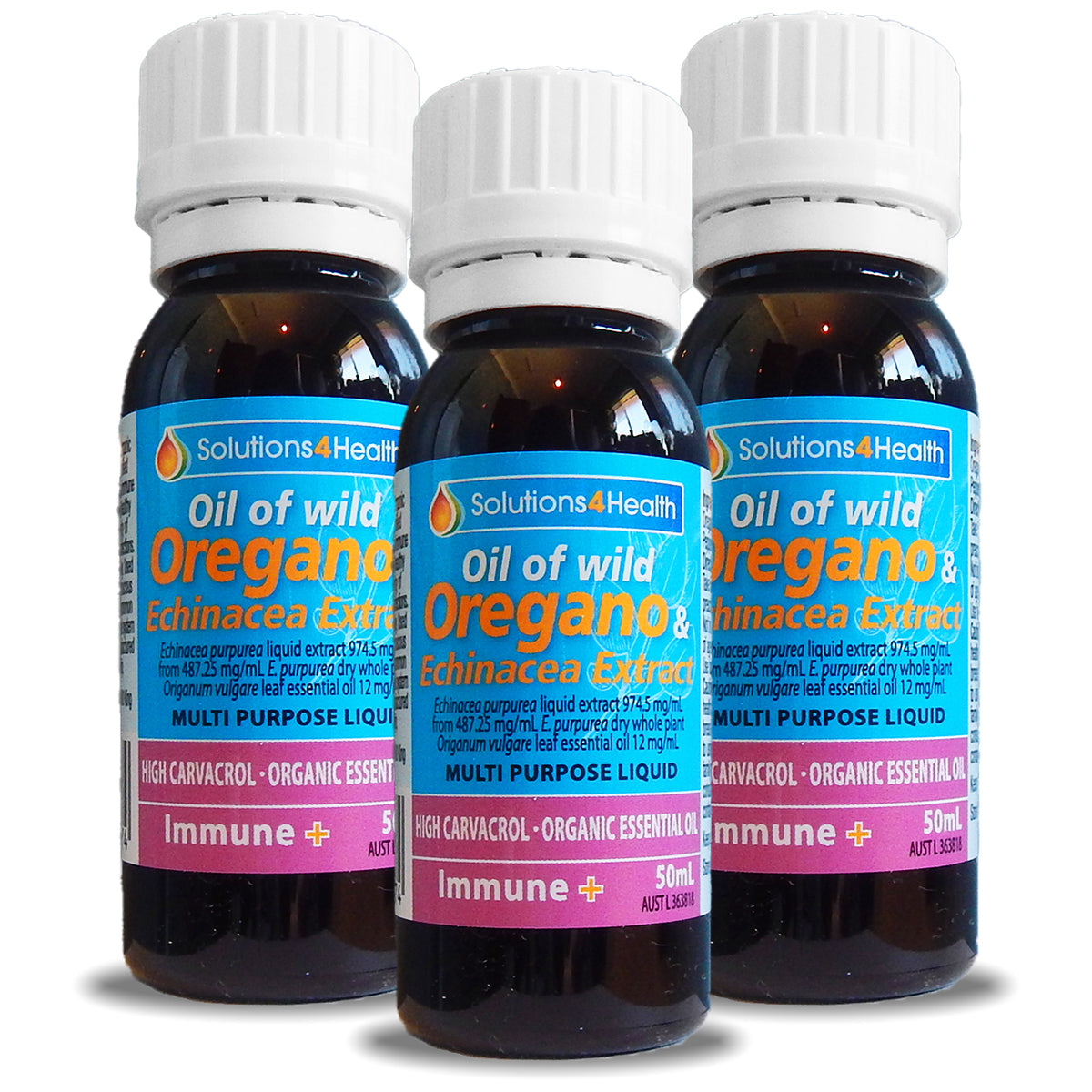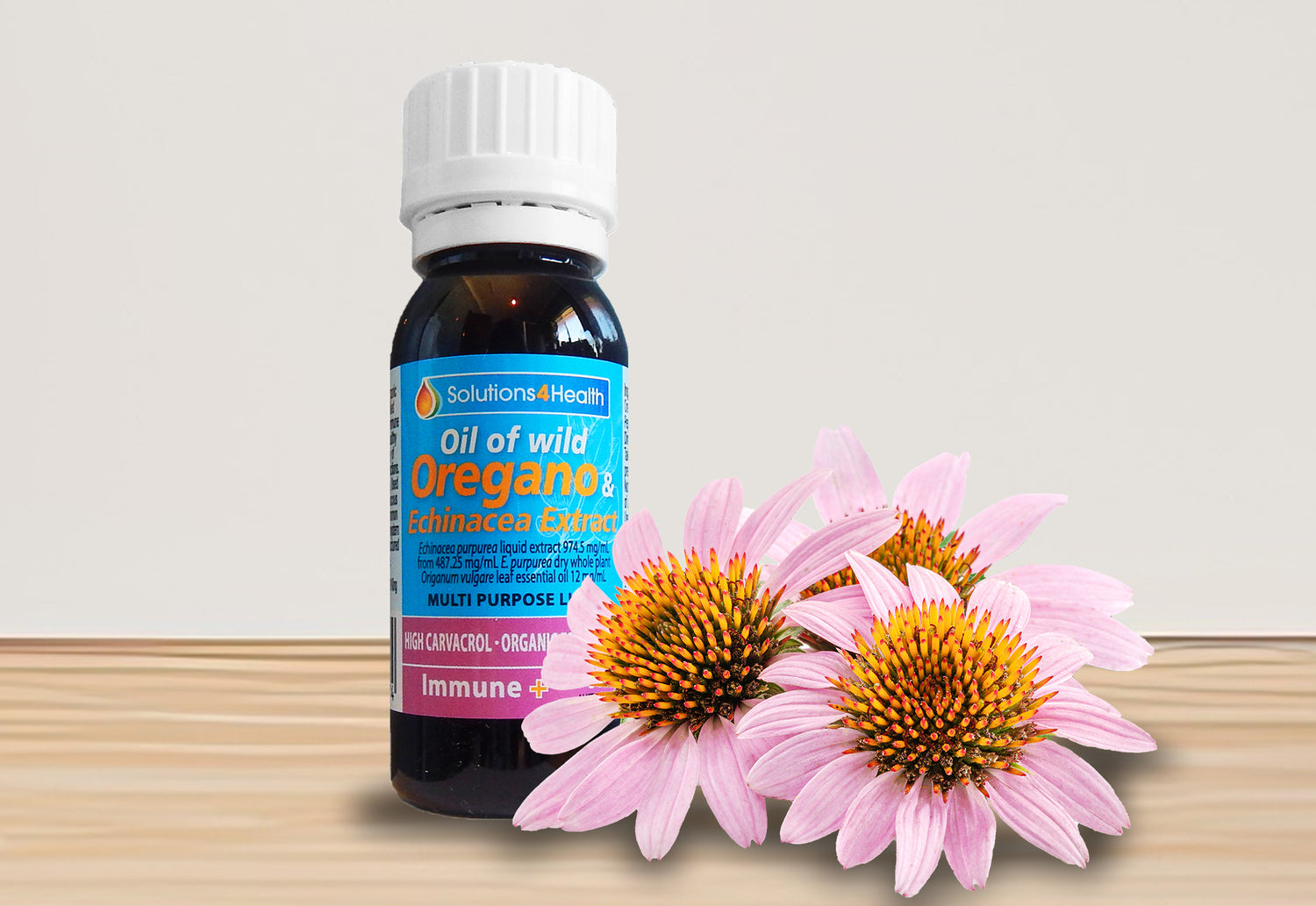 Power Combo!
Nature is full of amazing wonders, and it is up to us to seek them out and create the perfect solution!

Oil of Wild Oregano is a potent natural therapeutic on its own and we are always looking to expand and compliment its already impressive therapeutic benefits! We have introduced Echinacea Extract to create a blend that targets specific areas. It works synergistically with Oil of Wild Oregano to bring therapeutic qualities such as lymphatic system support, symptom relief of respiratory tract infections and immune system support to fight illness.

Echinacea purpurea is one of the most important and well-known medicinal plants in the world. First evidence of its use for medicinal purposes date back to the 18th century.1

Echinacea purpurea stimulates activity of cells to fight a range of different infections. It makes the immune cells in your body more efficient at attacking bacteria, viruses and abnormal cells2. It is most effective for stimulating phagocytosis, which is consumption of invading organisms by white blood cells and lymphocytes3.

These benefits are made available to you through our process of extraction which utilizes glycetract. This is a non-alcohol extraction method where glycerol and water are used rather than ethanol and water combination.
Buy Now
Picked right from where nature intended...
OIL OF WILD OREGANO & ECHINACEA EXTRACT INFO
Extra Virgin Olive Oil
Echinacea Purpurea
Certified Organic Oregano Oil (Origanum Vulgare)
Directions for use: Shake well before use. Take 5mL (5.75g) in juice once a day or as prescribed by your healthcare practitioner. Not to be used in children under 2 years of age without medical advice. Use topically as required.
Antioxidant/Reduce free radicals formed in the body
Traditionally used in Western herbal medicine to alterative/blood cleanser/depurative/purifier
Maintain/support healthy lymphatic system
Traditionally used in Western herbal medicine to maintain/support gastrointestinal system health
Maintain/support immune system to fight illness
Traditionally used in Western herbal medicine to decrease/reduce/relieve symptoms of common colds and flu
Decrease/reduce/relieve the severity of symptoms of mild upper respiratory tract infections
Traditionally used in Western herbal medicine to relieve symptoms of mild upper respiratory tract infections
Traditionally used in Western herbal medicine to soothe respiratory tract mucous membranes/mucous tissue
Traditionally used in Western herbal medicine to vulnerary/wound healing
As with the use of any nutraceutical, it is important to first consult with your health professional to discuss your use of our product in light of any medical conditions you may have and any medication you may be taking.

Always read the label. Do not use if pregnant, taking blood thinners and/or allergic to the mint family of plants.

If symptoms persist consult your health professional.

All dosage, quantity and list of ingredients can be found on the label and on its corresponding webpage found on our website, www.solutions4health.com.au.

Selected claims used within this advertisement are based on evidence of a history of traditional use, including Western herbal medicine
How is Echinacea oil derived?
Echinacea extract is extracted from the whole plant, by the method of cold percolated fluid extraction using glycerol.
What is Echinacea oil?
Echinacea extract is an oil that is extracted from the Echinacea plant, also known as purple coneflower, which is known for its traditional use in supporting the immune system and promoting overall health. It contains various bioactive compounds such as alkylamides, polysaccharides, and caffeic acid derivatives that are responsible for its therapeutic properties.
How is Oil of Wild Oregano derived?
Our Oil of Wild Oregano is Certified Organic and is hand picked and naturally steam distilled using the Wild Oregano leaves under ISO 9001-2008 and HACCP quality procedures. No additives are used in the process and nothing is taken away. Our Certified Organic Extra Virgin Olive Oil from Australian produced olives is to British Pharmacopoeia (BP) standards. Our products are Made in Australia and listed with the Therapeutic Goods Administration of Australia ( TGA). This costs us more but makes a much safer and better quality product for you, our customer.
Isn't Thymol toxic?
Another important constituent is Thymol. Thymol has a high degree of toxicity. Ideally, the levels should be less than 5%. This is not the case with other brands with many containing  Thymol levels of up to 40%. This degree of Thymol is highly toxic. This is never the case with Solutions4Health Oil of Wild Oregano, which has a Thymol level of less than 2% .Solutions4Health is safe for daily use.
What does it mean to be TGA listed?
The Therapeutic Goods Administration is a Commonwealth Government agency that regulates medical devices and drugs. Prescription medicines and over-the-counter medicines which meet Australian standards of quality, safety and efficacy are included on the Australian Register of Therapeutic Goods. Medicines may be registered or listed. Registered products are thoroughly evaluated and are labelled with an AUST L number. You can find the AUST L number on our label on the bottle.
Solution4Health Oil of Wild Oregano & Echinacea Extract is listed with the Australian Register of Therapeutic Goods (ARTG), AUSTL 363818
Have there been clinical studies performed on Oregano Oil?
Yes! PubMed is the world's #1 database for scientific evidence based literature. There are over 2,000 studies on PubMed alone. There are also many more evidence based studies on the medicinal properties of Oregano Oil.
Have there been clinical studies performed on Echinacea?
Yes again! PubMed as said is the world #1 database for scientific evidenced based literature. There are over 1,000 studies on PubMed alone. It's extensive clinical studies have disclosed numerous benefits. There are many more evidence based studies on the medicinal properties of Turmeric oil.
How long will my bottle of Oil Of Oregano & Echinacea extract last?
A 50ml bottle of Oil of Oregano & Echinacea Extract will last 10 days if you take the recommended dosage every day. Most people will not have a need to use this much, so your bottle should last much longer.
Is your oil tested for heavy metals and other contaminants?
Many analyses are performed,  such as Microbiological and Chemical Analyses including use of  Gas Chromatography on the Oil of Wild Oregano for the presence of  harmful amounts of infectious microbes, chemicals or heavy metals.
Is your Oregano Oil Standardized?
Our Oil of Wild Oregano is not standardized and never will be! Standardization includes the adulteration and/or the alteration of a product. To standardize Oregano Oil, a constituent must be added or taken away, and this does not benefit the consumer as the 3 main chemical constituents work synergistically together to provide the antibacterial, antifungal, antiviral, anti-inflammatory, antioxidant, and antiparasitic qualities of Oil of Wild Oregano, not on their own. Many studies have shown that the main chemical constituent; Carvacrol, an extremely powerful antibiotic, does not work on its own. Tests have shown that pure Carvacrol is not as effective as pure Oil of Wild Oregano. Whether it is increasing the Carvacrol by fractioning the essential oil after distillation by boiling off other natural components to increase the Carvacrol content; or adding Carvacrol to the water during distillation or afterwards; or even removing whole parts of the plant's makeup, it puts the natural synergy of the active constituents out of balance. We would rather give you what nature provided, that has naturally high Carvacrol vs. the highly over claimed products on the market.
Shipping And Delivery
We offer FREE standard shipping Australia wide and a flat EXPRESS shipping rate of $5.90 Australia wide.
All orders are processed and shipped out within 2 business days (Orders are not shipped or delivered on weekends or holidays).
Depending on where you are located within Australia the expected date of delivery can vary.
Shipping to:
South Australia: Express= 1-2 days | Standard= 2-4 days
ACT: Express= 2-4 days | Standard= 4-6 days
New South Wales: Express= 2-3 days | Standard= 4-7 days
Northern Territory: Express= 3-5 days | Standard= 6-10 days
Queensland: Express= 2-3 days | Standard= 5-7 days
Tasmania: Express= 3-4 days | Standard= 6-7 days
Victoria: Express= 2-3 days | Standard= 4-6 days
Western Australia: Express= 3-5 days | Standard= 7-13 days
60 Day Money Back Guarantee
We are very confident in the quality of our products. However the reality is that our genetics play a big role in how our body reacts.
So, if you aren't completely satisfied with our products, we don't want you to pay for them!
Simply return the unused portion of the product so we can conduct laboratory tests to ensure quality and non-oxidation of the product.
No hassles. No risks. Just results.
All guaranteed for a full 60 days.
References
1. Hostettmann K. Geschichte einer Pflanze am Beispiel von Echinacea [History of a plant: the example of Echinacea]. Forsch Komplementarmed Klass Naturheilkd. 2003;10 Suppl 1:9-12. doi:10.1159/000071678

2. Hudson J. B. (2012). Applications of the phytomedicine Echinacea purpurea (Purple Coneflower) in infectious diseases. Journal of biomedicine & biotechnology, 2012, 769896. https://doi.org/10.1155/2012/769896

3. J. Barnes, L. A. Anderson, S. Gibbons, and J. D. Phillipson, "Echinacea species (Echinacea angustifolia (DC.) Hell., Echinacea pallida (Nutt.) Nutt., Echinacea purpurea (L.) Moench): a review of their chemistry, pharmacology and clinical properties," Journal of Pharmacy and Pharmacology, vol. 57, no. 8, pp. 929–954, 2005.