Herbal - Soothing - Natural
Gluten Free
Dairy Free
Australian Made
Guaranteed Certified Organic Oregano, Non-GMO
View full details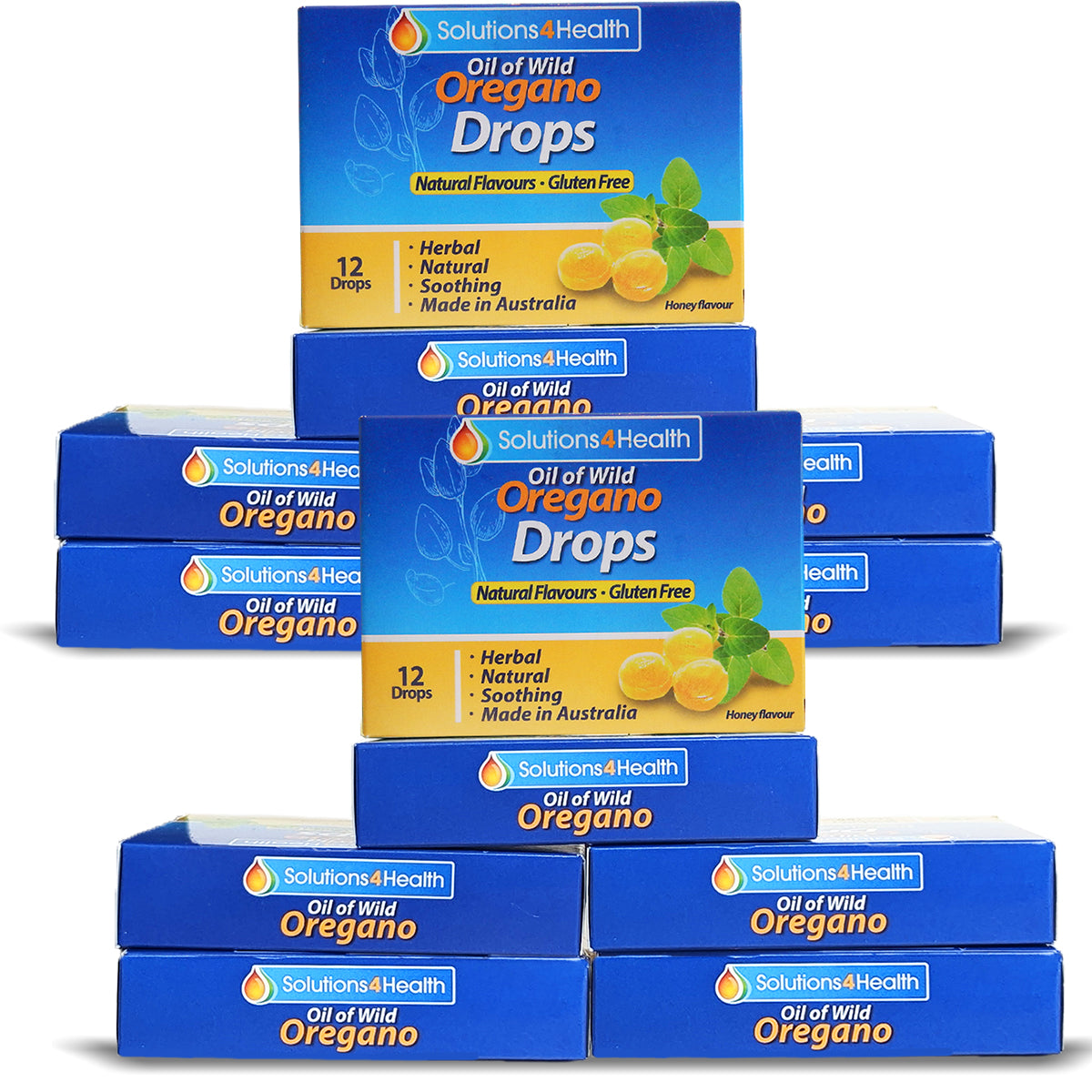 Picked right from where nature intended...
How Do You Use It?
Solutions4Health Oil of Wild Oregano Drops should be placed in the mouth and allowed to dissolve slowly.
What's In Solutions4Health Oil of Wild Oregano Drops?
Solutions4Health Oil of Wild Oregano Drops contain ECOCERT Certified Organic Wild Oregano (Origanum vulgare). Along with sugar, glucose, syrup (maize), honey and citric acid.
Cautions: Avoid if allergic to the mint family of plants. 
Is Your Oil Tested?
Many analyses are performed, such as Microbiological and Chemical Analyses including use of Gas Chromatography on the Oil of Wild Oregano for the presence of harmful amounts of infectious microbes, chemicals or heavy metals.
Is Your Oil Standardized?
Our Oil of Wild Oregano is not standardized and never will be! Standardization includes the adulteration and/or the alteration of a product. To standardize Oregano Oil, a constituent must be added or taken away, and this does not benefit the consumer as the 3 main chemical constituents work synergistically together to provide the therapeutic qualities of Oil of Wild Oregano, not on their own. Many studies have shown that the main chemical constituent; Carvacrol, a great antibiotic, does not work on its own. Tests have shown that pure Carvacrol is not as effective as pure Oil of Wild Oregano4. Whether it is increasing the Carvacrol by fractioning the essential oil after distillation by boiling off other natural components to increase the Carvacrol content; or adding Carvacrol to the water during distillation or afterwards; or even removing whole parts of the plant's makeup, it puts the natural synergy of the active constituents out of balance. We would rather give you what nature provided, that has naturally high Carvacrol vs. the highly over claimed products on the market.
Shipping And Delivery
We offer FREE standard shipping Australia wide and a flat EXPRESS shipping rate of $5.90 Australia wide.
All orders are processed and shipped out within 2 business days (Orders are not shipped or delivered on weekends or holidays).
Depending on where you are located within Australia the expected date of delivery can vary.
Shipping to:
South Australia: Express= 1-2 days | Standard= 2-4 days
ACT: Express= 2-4 days | Standard= 4-6 days
New South Wales: Express= 2-3 days | Standard= 4-7 days
Northern Territory: Express= 3-5 days | Standard= 6-10 days
Queensland: Express= 2-3 days | Standard= 5-7 days
Tasmania: Express= 3-4 days | Standard= 6-7 days
Victoria: Express= 2-3 days | Standard= 4-6 days
Western Australia: Express= 3-5 days | Standard= 7-13 days
60 Day Money Back Guarantee
We are very confident in the quality of our products. However the reality is that our genetics play a big role in how our body reacts.
So, if you aren't completely satisfied with our products, we don't want you to pay for them!
Simply return the unused portion of the product so we can conduct laboratory tests to ensure quality and non-oxidation of the product.
No hassles. No risks. Just results.
All guaranteed for a full 60 days.